Ingrown toenails
EXPERT CARE BY QUALIFIED PROFESSIONALS
---
FIND RELIEF NOW
---
PERMANENT INGROWN TOENAIL RELIEF
---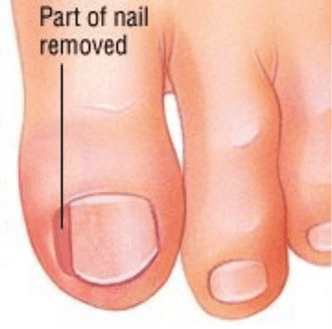 Ingrown toenails can be very painful.
There are several treatments that can be used to treat ingrown toenails, however the most effective long term solution is nail surgery.
Ingrown toenails can lead to serious infections. Commonly the ingrown toenail has some degree of deformity in it which is usually related to an old injury or congenital problems.
There are many procedures that have been developed over the years to treat ingrown toenails, some that include stiches and disfigurement of the nail. However, our preferred method at Move Podiatry is a partial nail excision and chemical matrixectomy under local anaesthetic.
This is the most reliable nail surgery performed that aims to reduce the chance of nail regrowth.
Nail surgery is safe, with very minimal pain afterwards, and can be safely performed in the clinic.
Cosmetically, the nail plate will look slightly narrower once fully healed, and this is usually barely noticeable.